EMERGING BRANDS PARIS FASHION WEEK
My Day 1
I was invited by Jvh Lab, a fashion consultancy agency that works with new designers to put them forward with their brand. This presentation gave the opportunity to a refined selection of emerging designers to show their new collection during the fashion week in Paris. The event was in a beautiful Parisian apartment at Rue Saint-Honoré near the famous Place Vendôme. Fifteen designers from different continents were present. Some of them were showing their brand and collection for the very first time in the capital of fashion. It was such an interesting event, I did some great meetings!
I let you discover my favorite designers below. Tell me what do you think?
***
Jour 1 de ma semaine de la mode #Paris
J'ai été invité par Jvh Lab, une agence conseil mode qui travaille avec des nouveaux créateurs afin de les mettre en avant avec leur marque. Cette présentation donnait l'opportunité à une sélection de créateurs émergents d'exposer leur nouvelle collection durant la semaine de la mode à Paris. L'évènement a eu lieu dans un bel appartement très parisien dans la Rue Saint-Honoré pas très loin de la célèbre Place Vendôme. 15 créateurs venus de différentes horizons étaient présents. Quelques uns d'entres eux présentaient leur marque et collection pour la toute première fois dans la capitale de la mode. C'était un évènement très intéressant, j'ai fais de très belles rencontres !
Voilà, je vous laisse découvrir mes créateurs favoris. Dites-moi ce que vous en pensez ?  
STEPHANIE ANSPACH – Belgian knitwear brand.
Launched in August 2013 with a first collection, Stephanie Anspach did her sales through word of mouth and by a video called "Less is mode" that went viral – check this out here. All her pieces are produced in the atelier Dries Van Noten, Christian Winants and Loro Piano Wool. To shop her collection, you will have to go to Bruxelles, where all her stores are.
Website here.
***
STEPHANIE ANSPACH – Marque de tricot belge.
Sorti en Août 2013 avec une première collection, Stephanie Anspach a fait ses ventes à travers du bouche à oreilles et par une vidéo qui a fait le buzz appelé "Less is mode" – regarder la vidéo ici. Toutes ses pièces sont produites dans les ateliers de Dries Van Noten, Christian Winants et Loro Piano Wool. Pour acheter sa collection, il faudra aller à Bruxelles où se situent ses boutiques.
Site web ici.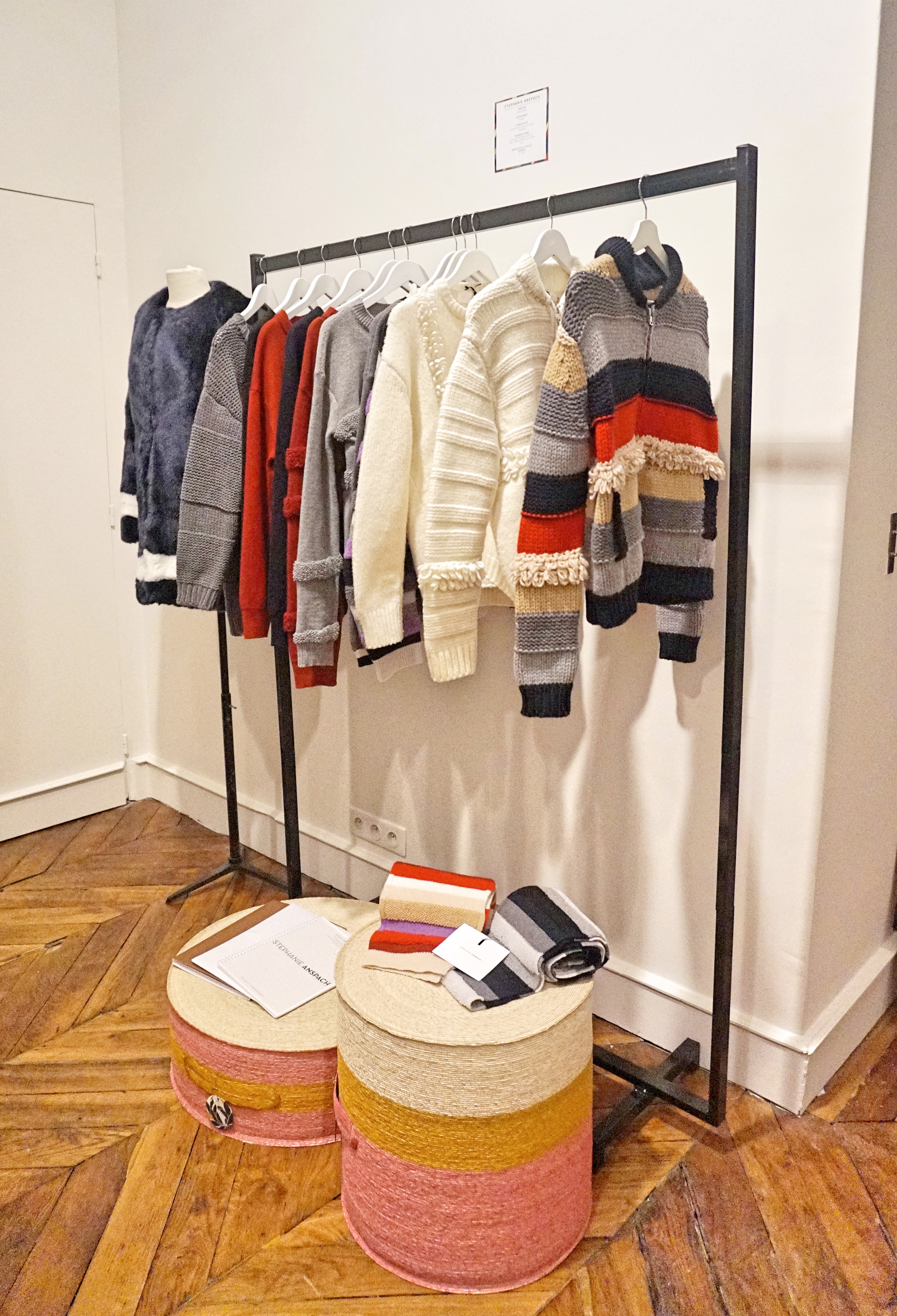 LA SEINE ET MOI – Faux fur coat brand.
A Parisian brand created by Lydia Bahia. La Seine et Moi is the best alternative of all fashionistas out there, it offers faux fur coat as pretty, soft, comfortable and stylish as the real one. A 100% made in Paris!
Shop her collection, here.
***
LA SEINE ET MOI – Marque de fausse fourrure.
Une marque parisienne créée par Lydia Bahia. La Seine et Moi est le meilleur alternatif pour toutes les accros de mode. La marque offre des manteaux en fausse fourrure aussi tendance, joli, confort et agréable au toucher que la vraie. Une marque fabriquée 100% à Paris !
Acheter sa collection , ici.

BECK JEWELS
The designer Rebecca Zeijdel-Paz created the brand which combines elements of travel and style into handcrafted piece. Her source of inspiration is her home-island in Curaçao and the city where she lives, Brooklyn. A mix of tropical vibes and urban living.
Website here.
***
BECK JEWELS
La créatrice Rebecca Zeijdel-Paz créa la marque Beck Jewels qui combine des éléments du voyage et du style élégant décontracté en une pièce fait main. Sa source d'inspiration est sa maison d'origine, une île à Curaçao et sa ville où elle vit actuellement, Brooklyn. Un mixe d'ambiance tropicale et une vie urbaine.
Site web, ici.

ISA DENNIG
Claire Isa Dennig created a jewelry brand from her multicultural education. Half Austrian and half Chinese, she was raised and educated in Paraguay, Austria, Switzerland, UK and US. She moved to NY where she worked with a big jewelry designer before she launched her own brand. Her jewelry is playful, graphic, bold and timeless.
Shop and visit her website here.
***
ISA DENNIG
Claire Isa Dennig créa une marque de bijoux à partir de son éducation multi-culturelle. Moitié Autrichienne et moitié chinoise, elle a été élevé et éduqué au Paraguay, en Autriche, Suisse, au Royaume-Uni et aux États-Unis. Elle emménage à New York où elle a travaillé pour un grand créateur de bijoux avant de lancer sa propre marque. Ses bijoux sont ludique, graphiques, audacieux et intemporels. 
Acheter et visiter son site web, ici.

---
Here's the other designers / Ici les autres créateurs émergents :
---
What I'm wearing / Ce que je porte :
Rad bomber, Stradivarius skirt, Flair bodysuit, Zara boots & Clarks handbag.
All the direct links / Tous les liens directs here.