NENI paris est un restaurant que j'ai testé lors d'un événement, se situant à l'hôtel 25hours hôtel terminus Nord, juste en face de la gare. C'est un voyage culinaire que nous offre ce restaurant, une cuisine israélienne à découvrir absolument !
Le nom NENI vient des quatre fils de Haya Molcho, cheffe israelienne – Nuriel, Elior, Nadiv et Ilan.
Elle apporte le street food israélien avec quelques touches d'Europe de l'Est et d'Orient. Un mélange parfait à savourer dans un décor coloré pastel.

NENI Paris is a restaurant that I've tried recently during an event, is located inside the 25 hours hotel in front of the Gare du Nord. The speciality of this place is israeli, that I hightly recommend to try!
The name NENI came from Haya's four sons – Nuriel, Elior, Nadiv and Ilan.
She brings the israeli street food with an Europe and Middle east touch in a colored interior deco.
Les plats sont incroyables, j'ai pu profiter de cette cuisine autour d'un atelier culinaire où Haya et un de ses fils étaient présents et nous présentés l'histoire de NENI et ses plats.
Le livre TEL AVIV nous a été offert lors de l'évènement, les délicieuses recettes de la cheffe sont à retrouver dans le livre pour pouvoir les reproduire également chez soi 🙂
During that event, Haya and one of her sons came to present the story of Neni and her dishes. I can tell you the food is amazing!
I had the chance to receive the book Tel Aviv where you can find her recipes and can try also at home 🙂


NENI PARIS – 12 Boulevard de Denain, 75010 Paris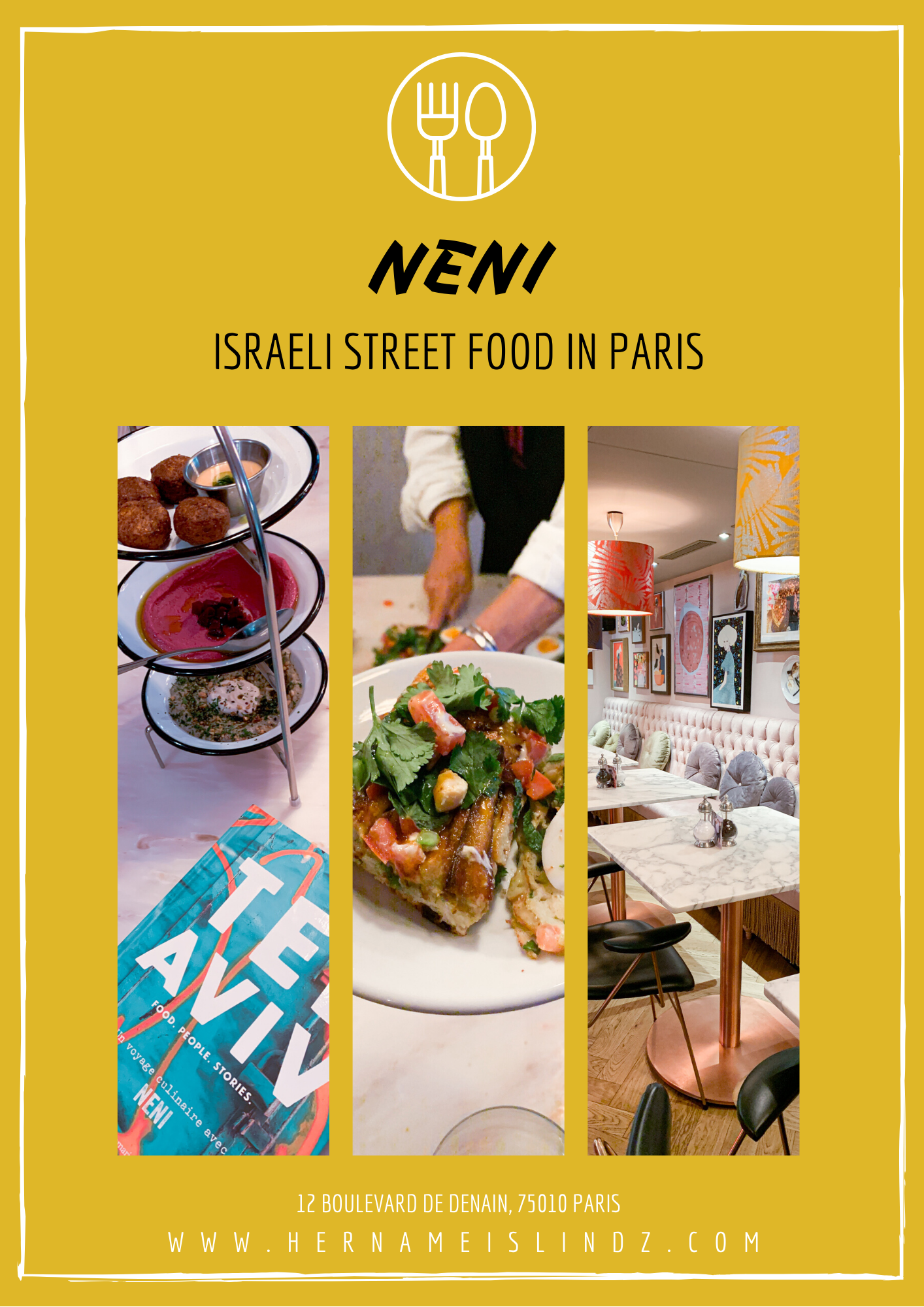 Pour plus de bonnes adresses, c'est par ici ! // To find more good restos in Paris, click here!
https://www.neniparis.fr/