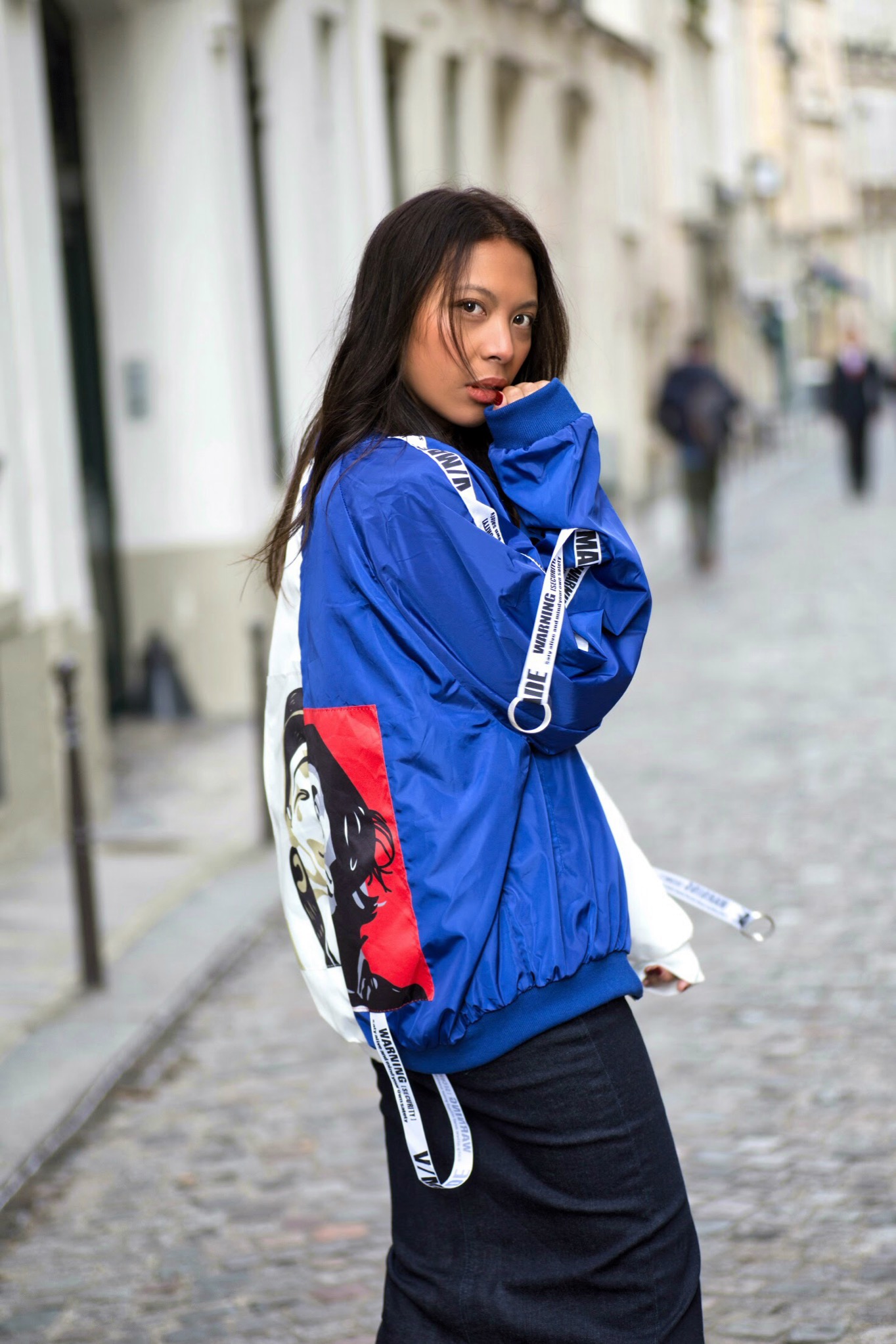 UN LOOK CHIC AVEC UN BOMBER
Hello,
Je vous retrouve aujourd'hui pour un nouveau look – Comment être chic avec un bomber ?
Le bomber qui est une pièce assez sporty et décontractée je trouve et qui est facile à porter avec un classique jean-baskets ! Pour changer et pour réhausser un look avec un bomber, je le porte avec une jupe en jean et des bottines. Alors vous pouvez aussi bien le porter avec des escarpins pour vraiment avoir ce look habillé ça casserait vraiment le côté sporty du bomber. Ou alors des baskets mais avec une jupe plissée je dirai et longueur midi (mi-longues) pour garder un côté féminin. Bien sur chacune à son style moi ici j'avais envie d'un look chic avec un bomber – une pièce pas du tout féminine je trouve.
Des pièces que j'associe avec un body one shoulder qui est revenu en force cette saison et une paire de bottines matière jean.
Aussi une association que j'adore BOMBER + ROBE, je trouve cela vraiment canon ! Je vous présenterai un look de ce genre prochainement…
Alors que pensez-vous de cette silhouette ? Comment porterez-vous le bomber pour avoir un look chic et habillé ?
PS : Rien à voir, souvenez-vous j'avais les cheveux vachement clairs durant quelques années, et là tada ! Je suis brune 😀 Oui je suis récemment passée chez le coiffeur et j'en suis bien contente ! Ça me change énormément ! Qu'en pensez-vous ? On kiffe ou pas ? Mieux en brune ou blonde ? 
***
 A CHIC LOOK WITH A BOMBER JACKET
Hello,
Today I introduced you a new look – How to be chic with a bomber?
The bomber which I find is a sporty and casual piece also very easy to wear with a classic look "jean-sneakers"! For a change and to enhance the outfit with a bomber, I decide to wear it here with a denim skirt and some denim boots. You can also wear it with a pair of heels to have a very dressy outfit, it will break the sporty side of the piece. Or some sneakers but a pleated skirt mid-length to keep a feminine side. Of course everyone has his own style, for myself here I wanted a chic outfit with a bomber – a piece not feminine at all.
Clothes that I combine with an one-shoulder bodysuit which became lately very trendy and a pair of denim boots.
Also an association that I really love BOMBER + DRESS, I dig it so much! I will show you soon this kind of look here…
What do you think about this look? How will you wear a bomber to have a chic outfit?
PS: Nothing related with this look but remember my hair color was very light, now I'm brunette 😀 Yes I went to the hair salon recently and I'm very happy! It changes a lot! What do you think? Better in brunette or blondie?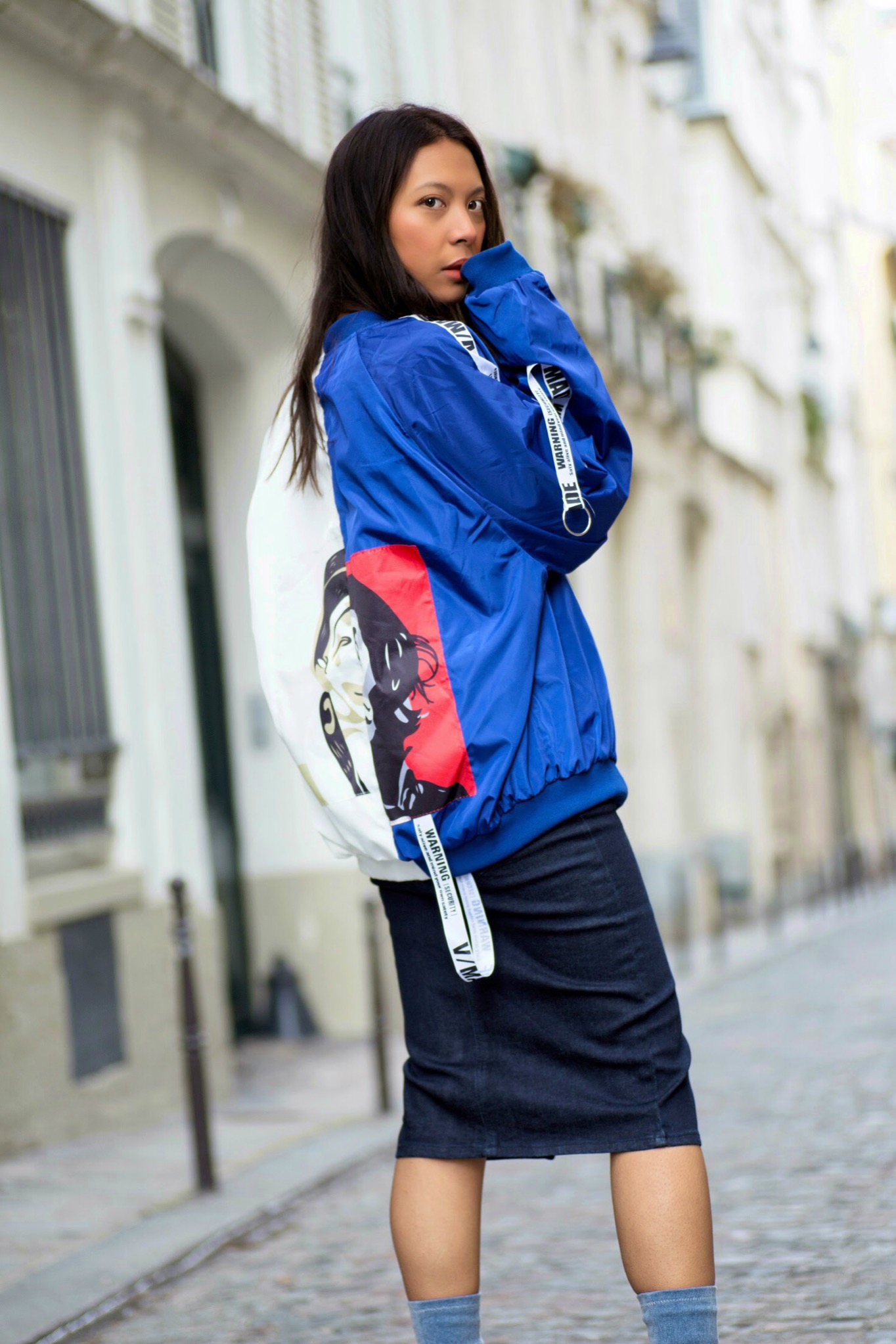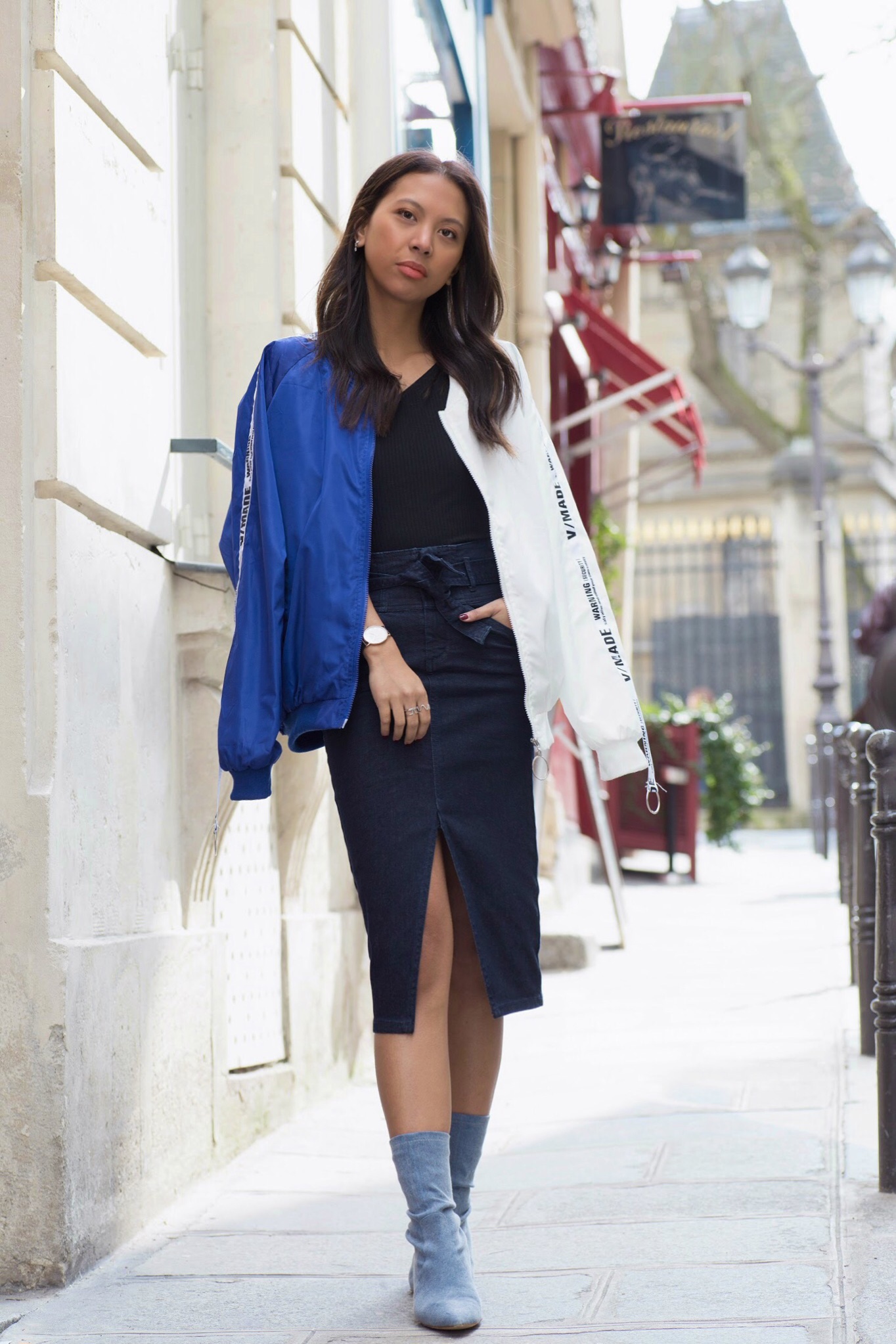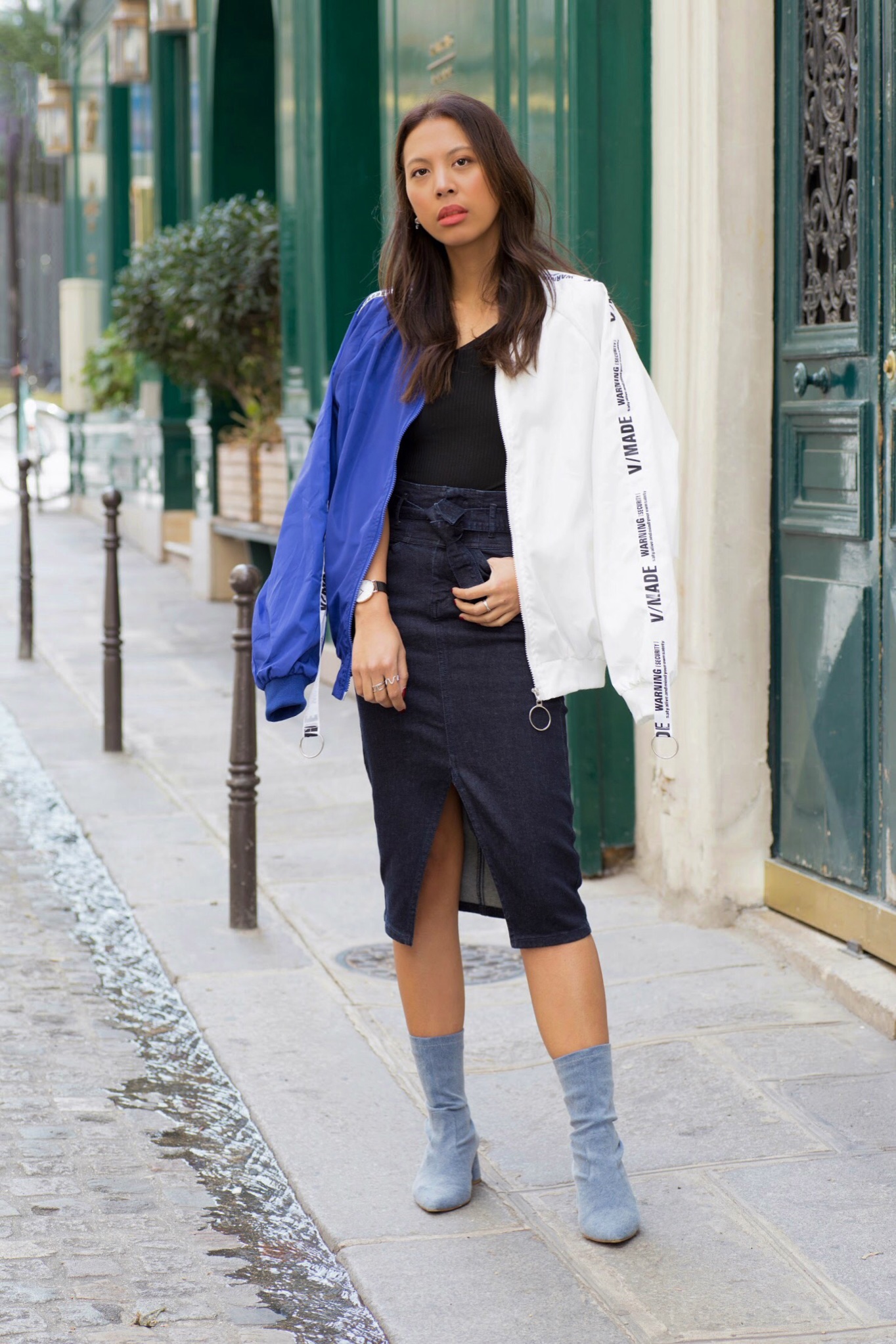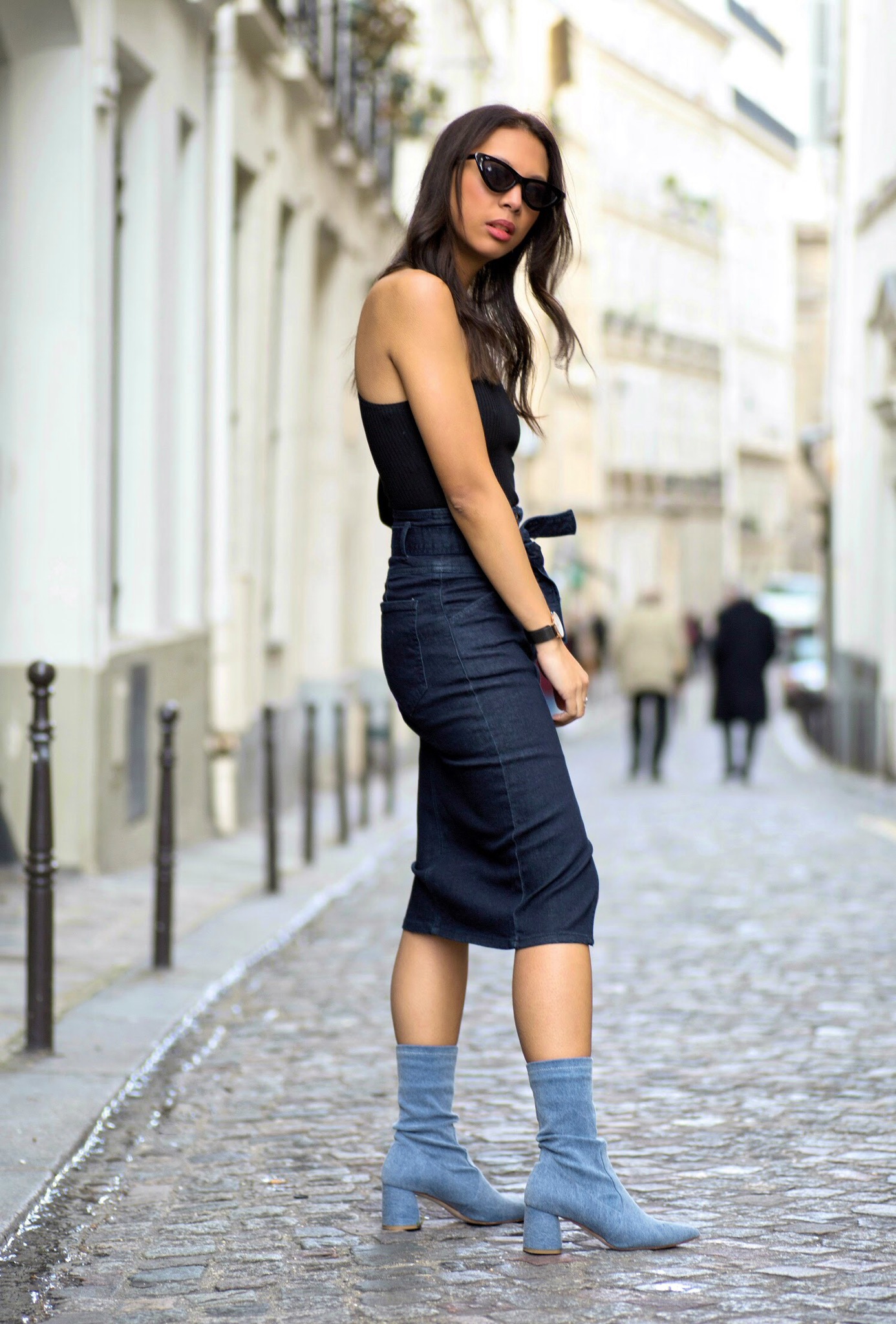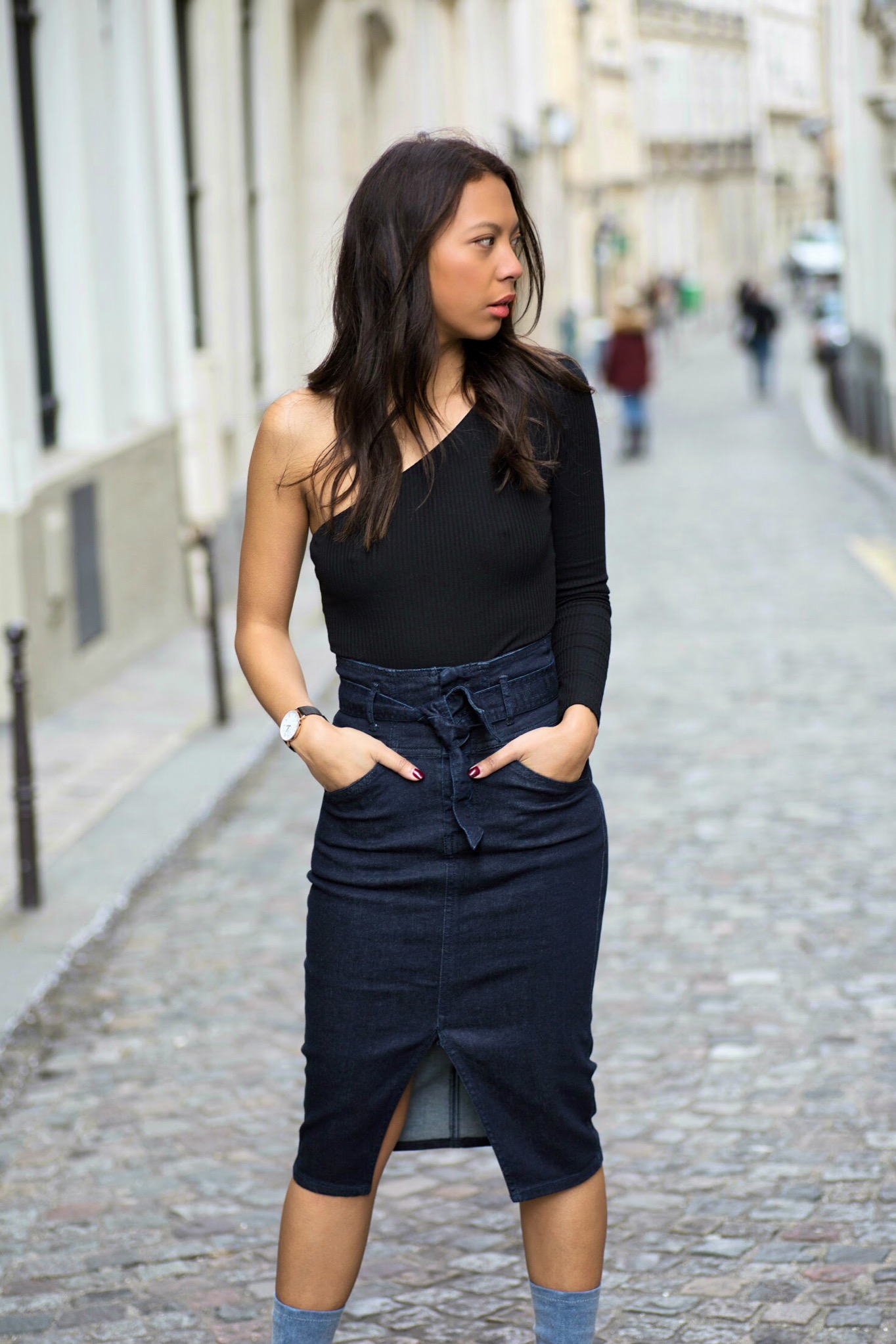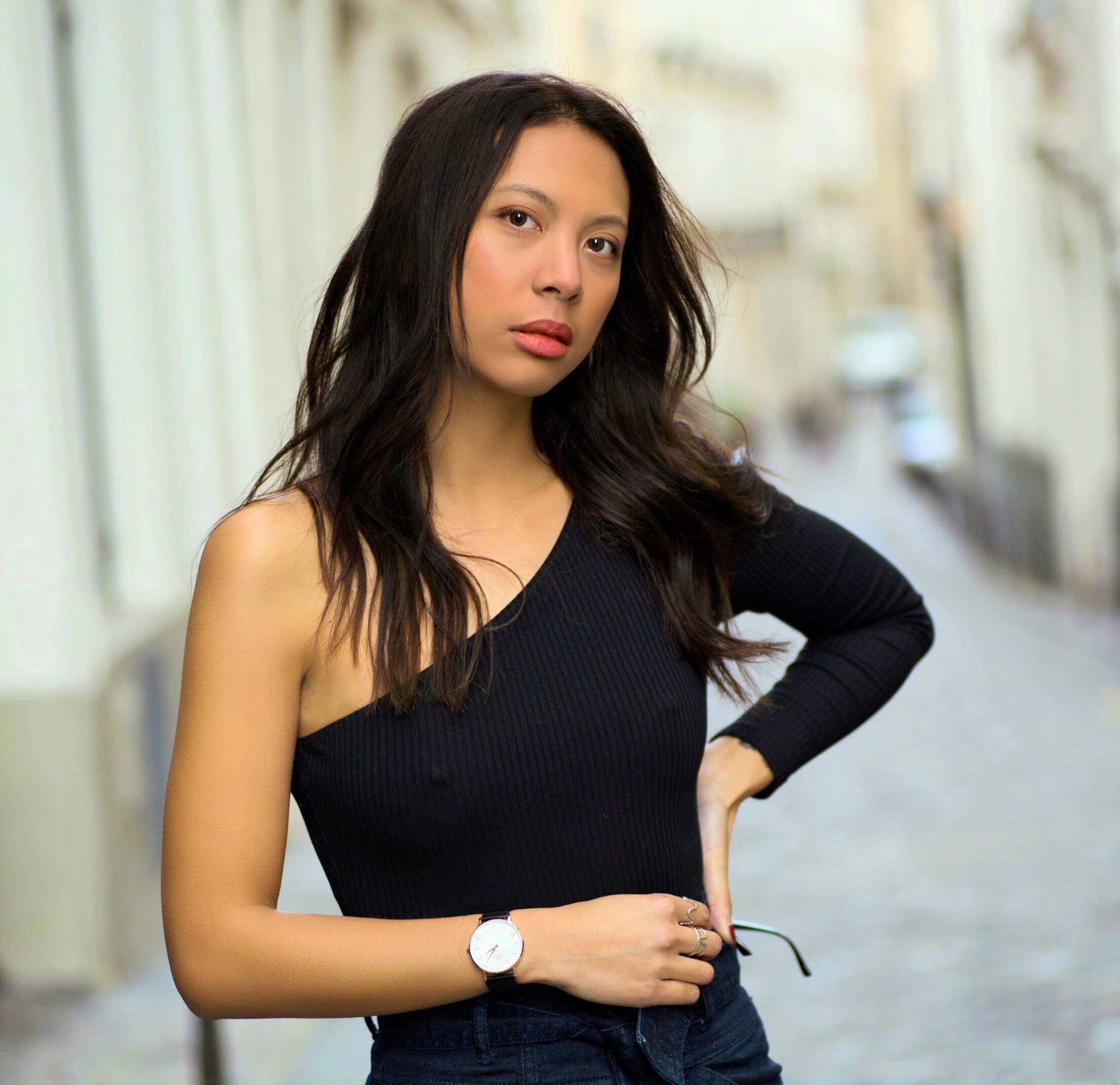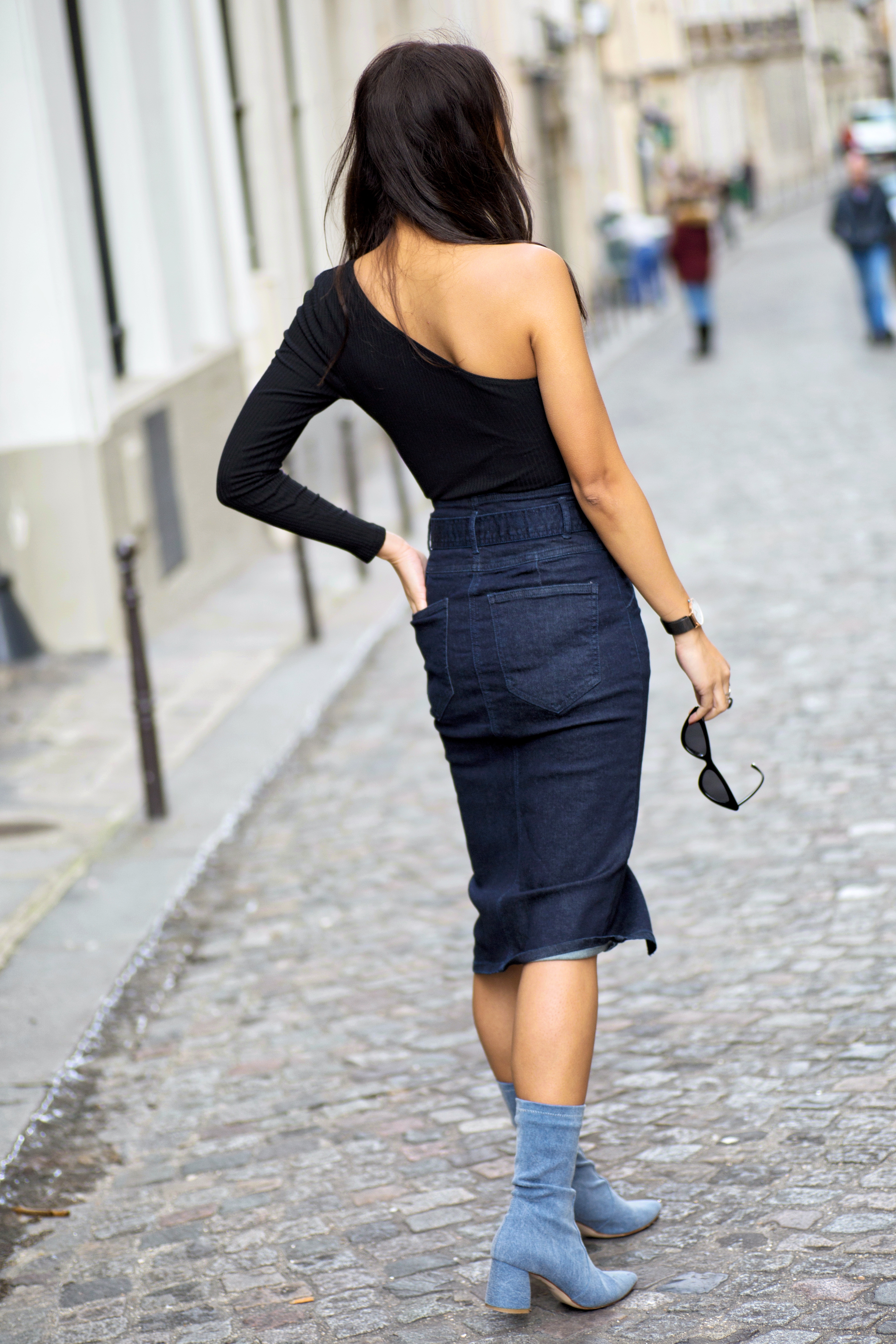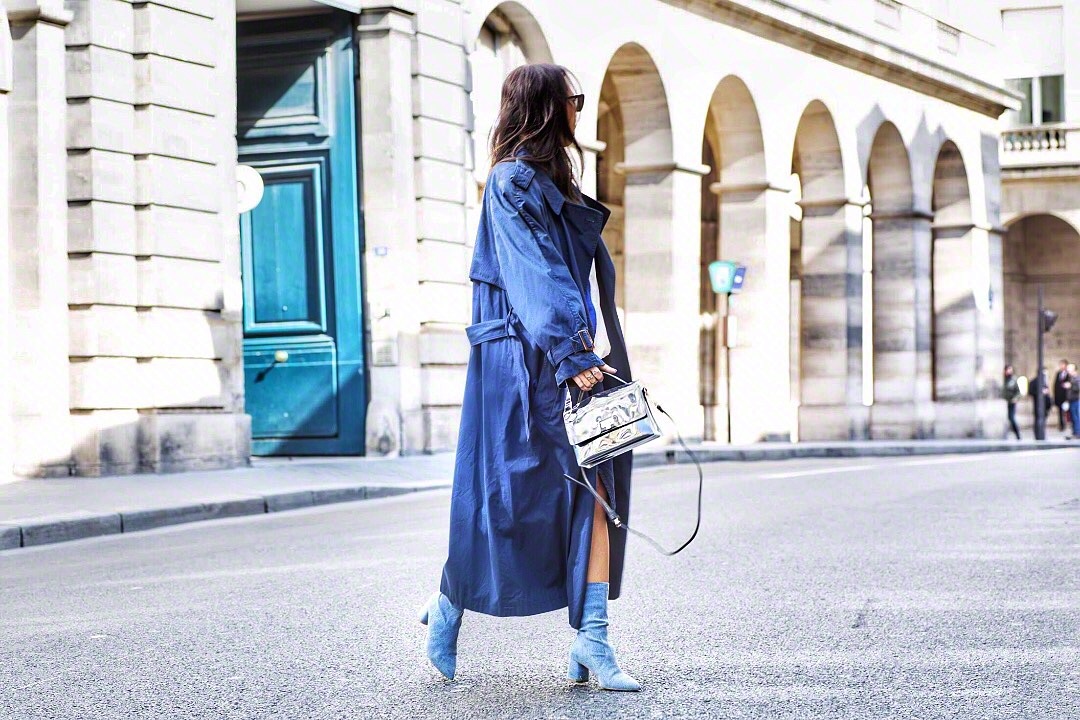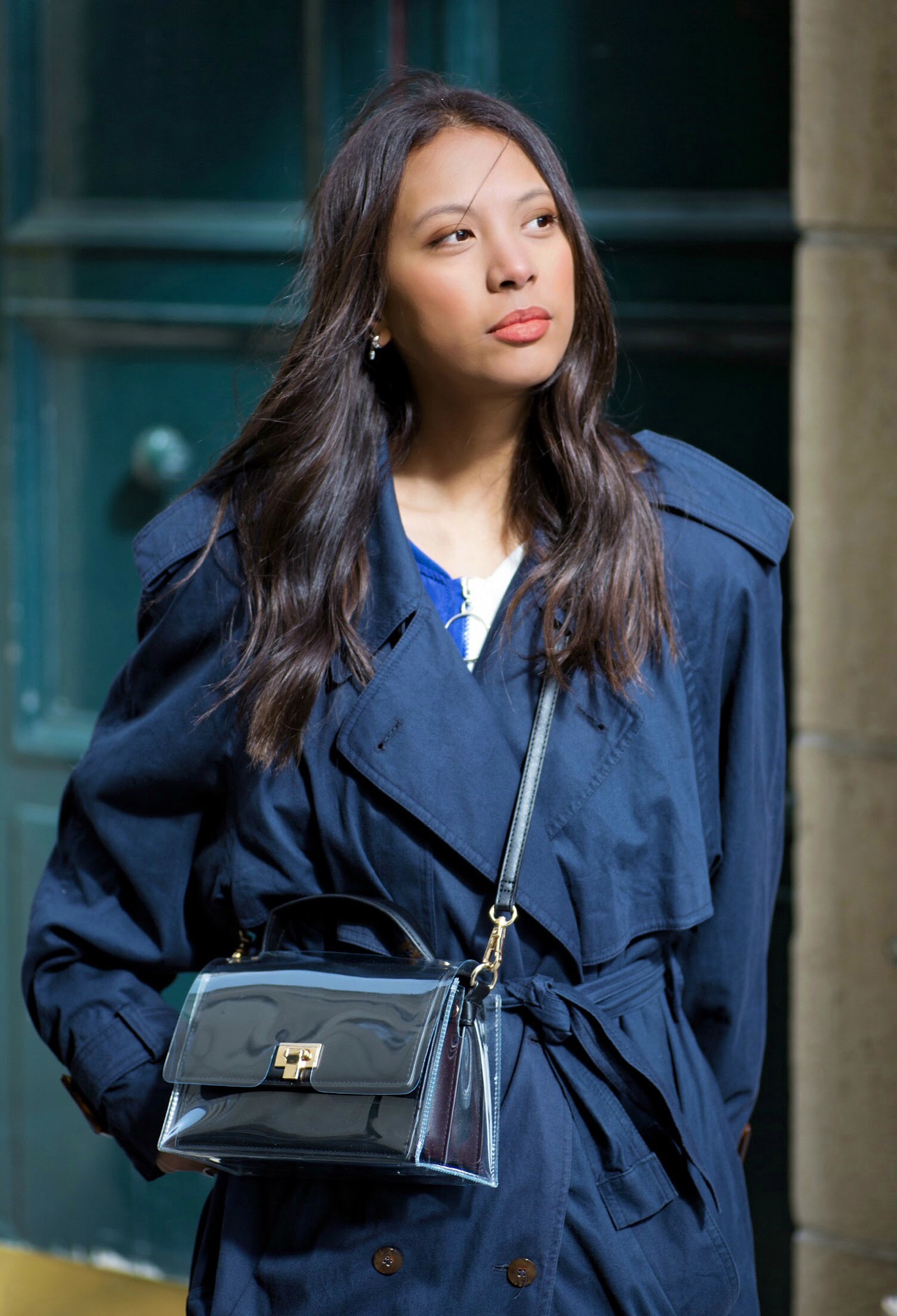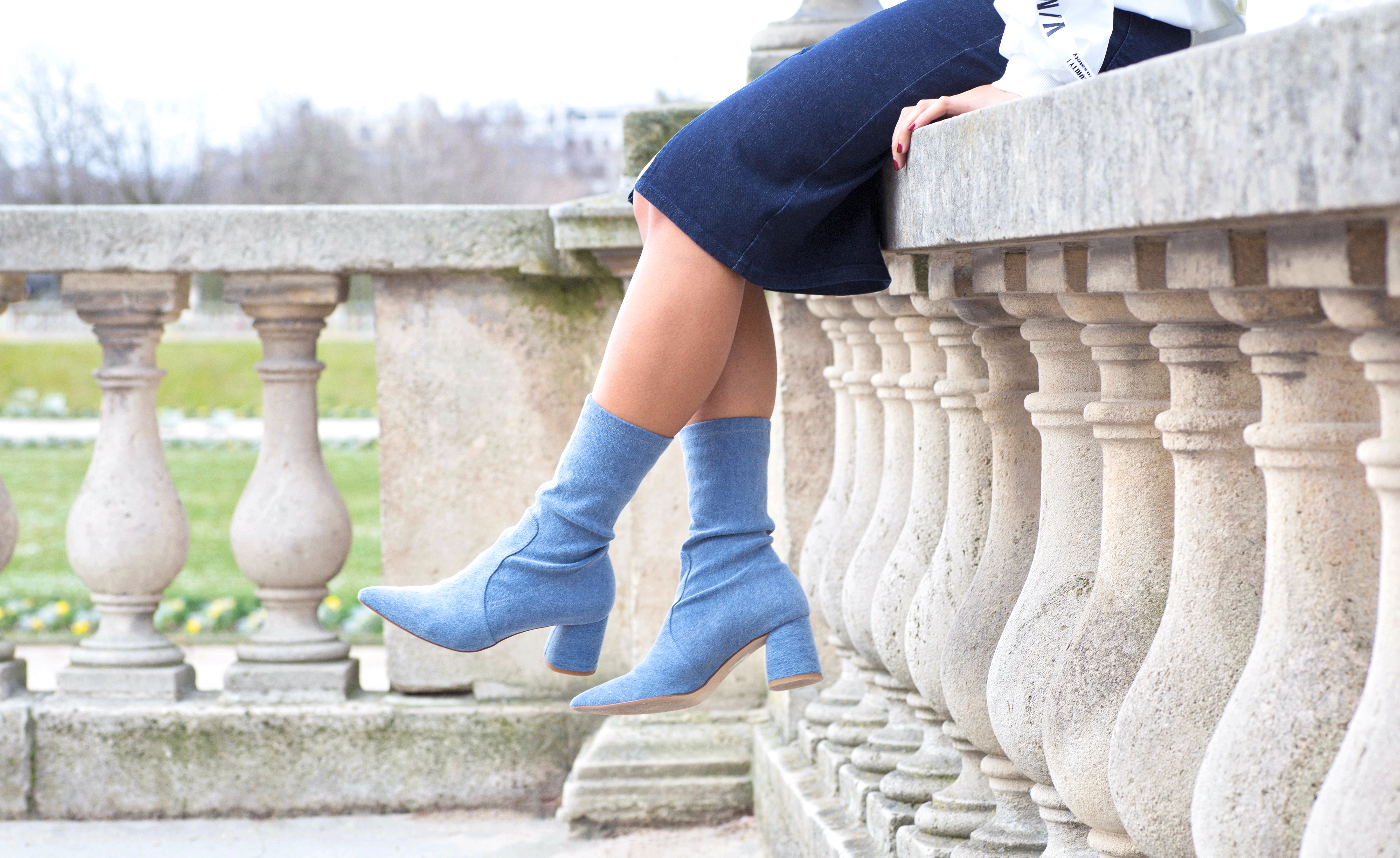 Pictures by Lorène.
#SHOPMYLOOK
Bomber jacket SHEIN: here
Top SHEIN: here

---
Pour découvrir plus de looks, c'est ici.
To discover more outfits, it's here.