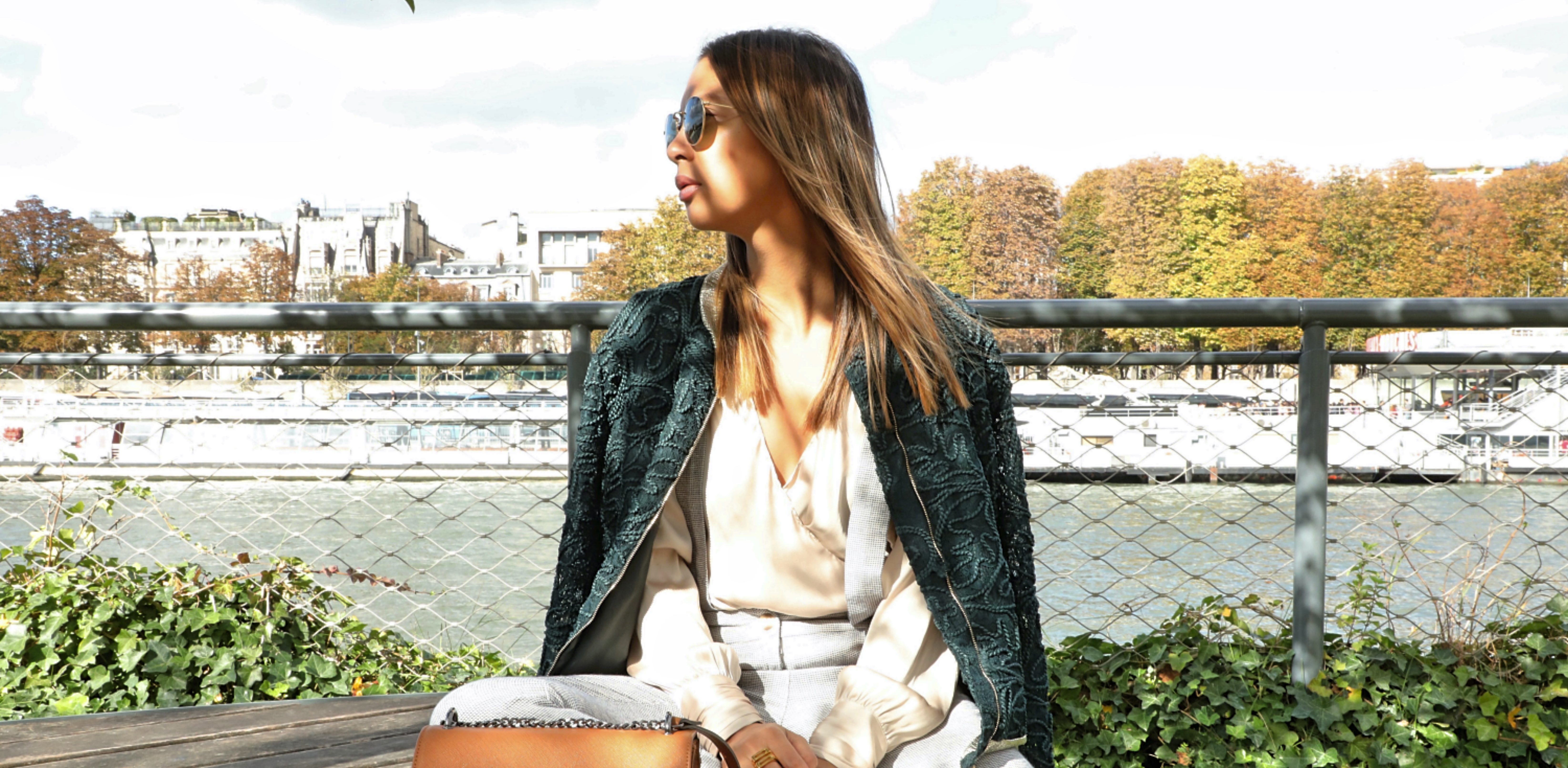 Un look déniché chez Nin & Laur boutique à Paris
🇫🇷Hey coucou ! J'ai de nouveaux produits à vous présenter. Qui dit nouvelle saison, dit nouveaux vêtements 🙂
Tout d'abord avant de commencer je tiens à souligner une chose nouvelle au sujet du blog. J'ai créé une nouvelle catégorie dédiée aux petites marques, boutiques et nouveaux créateurs que je découvre en ce moment. Je partagerai avec vous les pièces que j'ai repéré et déniché. Car bon on connaît bien les marques comme H&M, Zara, Topshop, Bershka, Forever21 et j'en passe… Toutes ces grandes marques qui font fureur et dont chez qui nous dépensons des euros et des euros pour qu'au final nous nous retrouvons tous avec les mêmes produits. Attention je ne dis pas que je ne m'habille pas chez eux au contraire je suis la première ! Mais il y a tellement d'autres marques et de boutiques multi-marques qui cachent parfois des trésors 🙂
Je suis partie à la boutique Nin & Laur à Paris dans le 11ème arrondissement où j'ai déniché 2 superbes vêtements.
Le premier est un bomber de la marque Rue des Abbesses et le second un pantalon à bretelles de la marque Kristen Liz Paris.
Le bomber couleur vert canard, est à porter seul ou sous un manteau pour les temps plus hivernaux. Je l'adore car il est tout en dentelle ce qui lui donne son originalité. Sa couleur est peu commun et sa bande dorée au niveau des poignets et encolure donne en plus une touche chic et habillée. Je l'ai associé avec le pantalon à bretelles.
Cette pièce est plutôt simple, coupe tailleur à pinces et 2 bretelles amovibles qui font tout son charme.
J'ai assorti ces 2 produits à un chemisier porte-feuille, de couleur sable tout en satin pour garder le côté habillé de la veste et des vans classiques pour casser et donner un look plus décontracté tout en restant chic.
En ce qui concerne l'accessoire, c'est ce petit sac cassette couleur camel de la marque Hexagona (encore une petite marque parisienne à découvrir) que j'adore ! Il a la taille parfaite pour un sac de tous les jours mais aussi de soir lors des escapades nocturnes. Ce que j'aime sur ce sac c'est qu'il peut être porter de plusieurs façons en gardant son style. En bandoulière, à la main ou sur l'épaule, ce sac est à shopper absolument.
Que pensez-vous du look ? Vous aimez ?
BON PLAN SHOPPING
Pour finir, je suis ravie de pouvoir partager avec vous mes découvertes dont la boutique Nin & Laur que je recommande fortement pour aller shopper. Des marques parisiennes peu connues mais qui proposent des merveilles comme ce bomber et ce pantalon. Nin & Laur vous propose un large choix de vêtements du style boho chic à petits prix. D'ailleurs, en ce moment vous avez -20% sur les produits de la marque Rue des Abbesses, Grace and Mila et Sweewe avec le code PRIVILEGE qui est à annoncer en caisse lors de l'achat. Pour que la réduction soit prise en compte vous devez également suivre le compte Instagram Nin & Laur (ici).
Voilà 🙂 Bon shopping !
***
An outfit shopped in Nin & Laur boutique
🇬🇧Hello! I have some new products to show you. Who says new season, says news clothes 🙂
First of all before I start, I would like to let you know there's something new on my blog. I created a new category regarding to small brands, boutiques and new designers that I'm currently discovering. I will share you the pieces that I spotted out and bought. Cause well, we all know H&M, Zara, Topshop, Bershka, Forever21, etc… All those famous brands where we spend a lot of money for at the end everyone has the same clothes. I'm not telling that I'm not doing my shopping to those brands on the contrary I'm the first buyer. But there are so many other brands and multi-brand boutiques that sometimes hide treasures 🙂
I went to Nin & Laur boutique in Paris at the 11th district where I found 2 pretty clothes.
The first one is a bomber from Rue des Abbesses and the second one is a pants with removable straps from the brand Kristen Liz Paris.
The green duck bomber can be worn alone or under a coat during winter weather. I love it because it's all lace, that gives its originality. I like its uncommon color and its gold band on the wrists and neckline that gives in addiction a chic and dressed touch. I've associated it with the Kristen Liz pants.
This piece is simple, cut tailor and 2 removable straps that make all its charm.
I matched these two products to a beige satin-wrapped blouse to keep the dressed side of the jacket and classic Vans to have a less formal look while staying chic.
Regarding the accessory, this small camel bag from the brand Hexagona (another Parisian brand to discover) that I love it! It has the perfect size for a everyday bag but also for evening during your night outs. What I love about this bag is that you can wear it from different ways while keeping its style. Shoulder bag or handbag, this one is to shop absolutely!
What do you think about that look? Do you like it?
Good shopping tips
Finally, I'm so glad to share with you my discoveries including the Nin & Laur boutique which I highly recommend to go for shopping, if you're in Paris. Parisian little-known brands but where you can find beautiful things like those pants and that bomber. Nin & Laur offers a wide selection of boho chic clothes at low prices. By the way, at the moment you have 20% off discount on Rue des Abbesses, Grace and Mila and Sweewe brands with the promo code: PRIVILEGE which you have to announce at the counter. For the reduction to be considered, you must also follow the Nin & Laur Instagram account (here).
Voilà 🙂 Enjoy your shopping!
---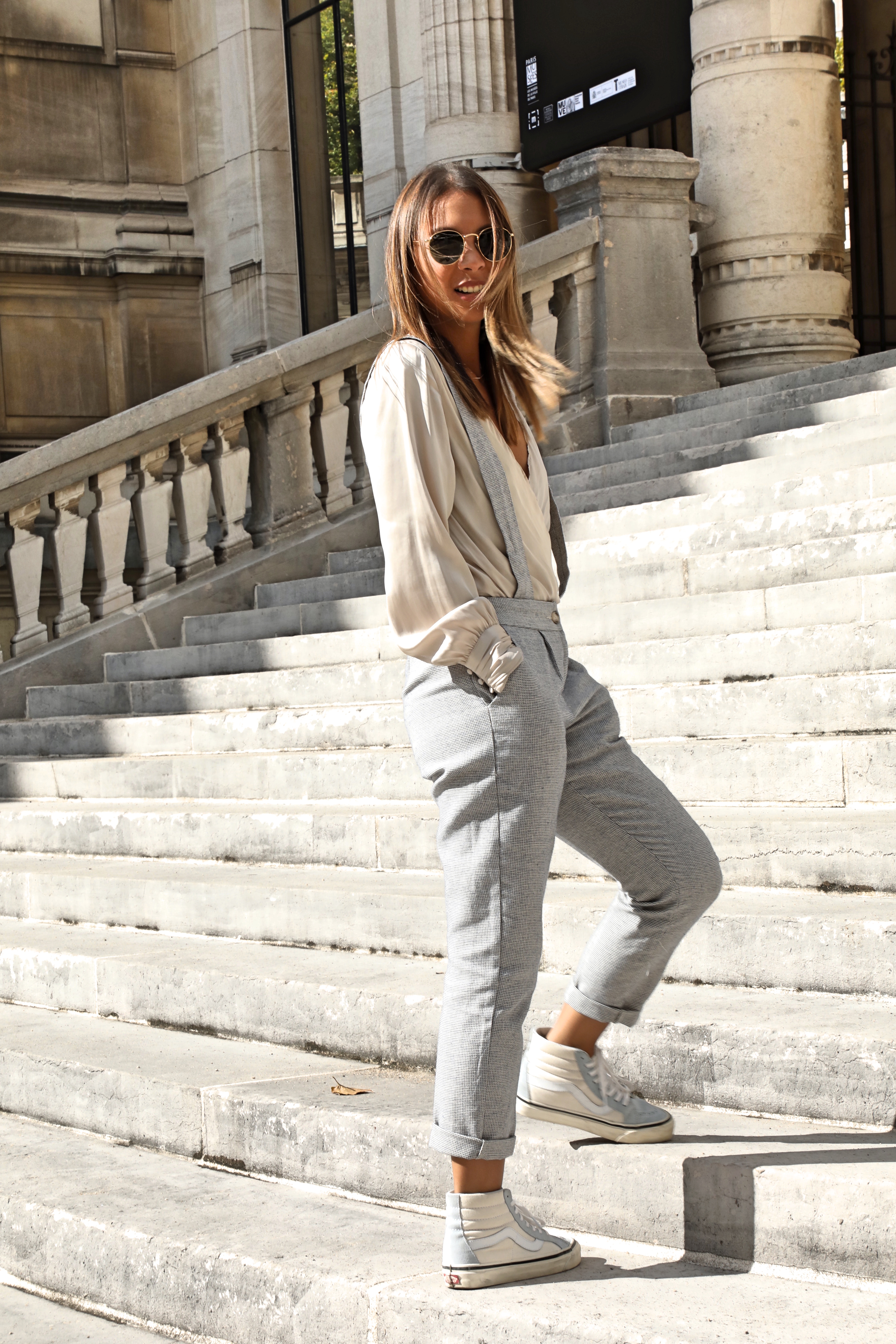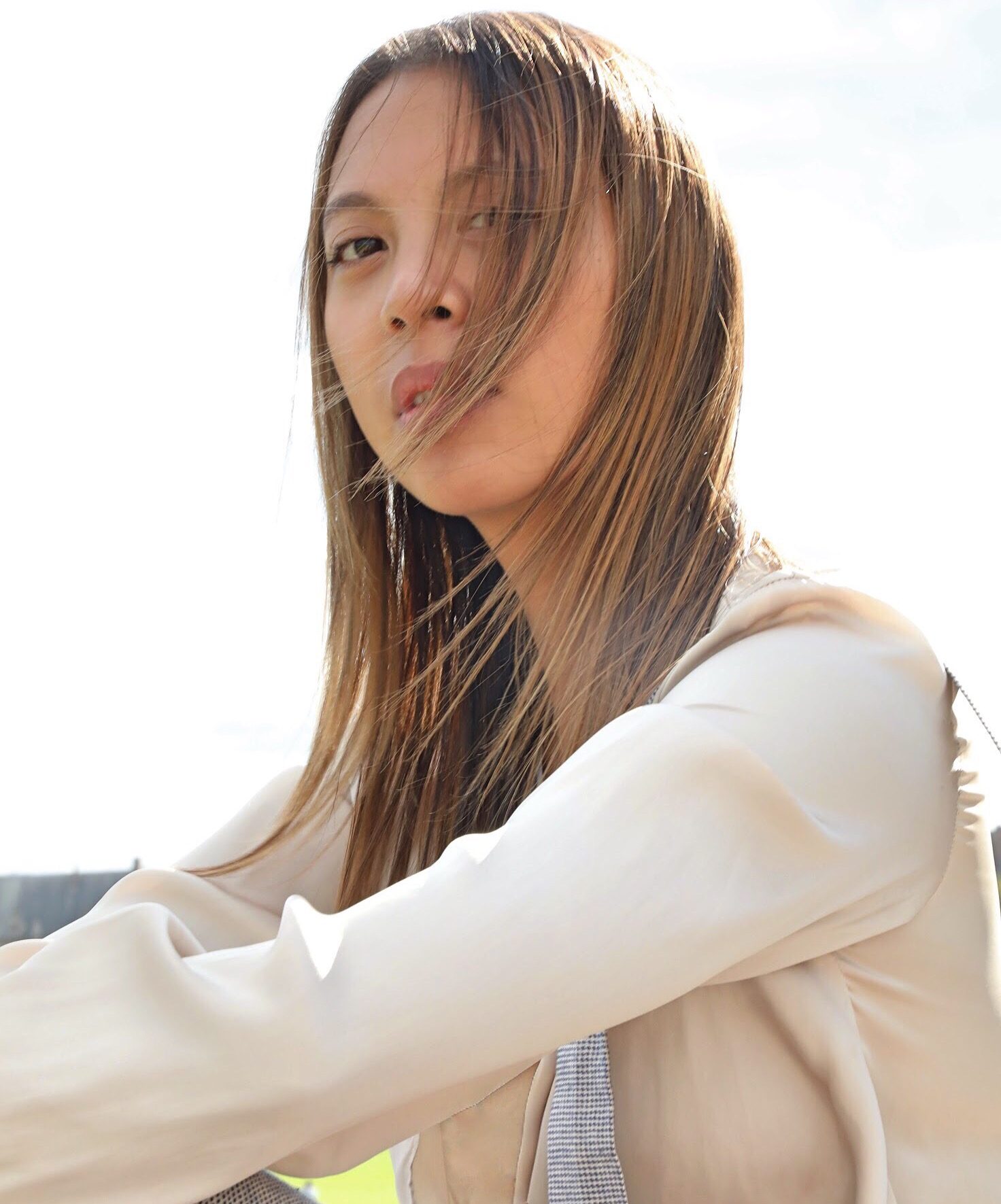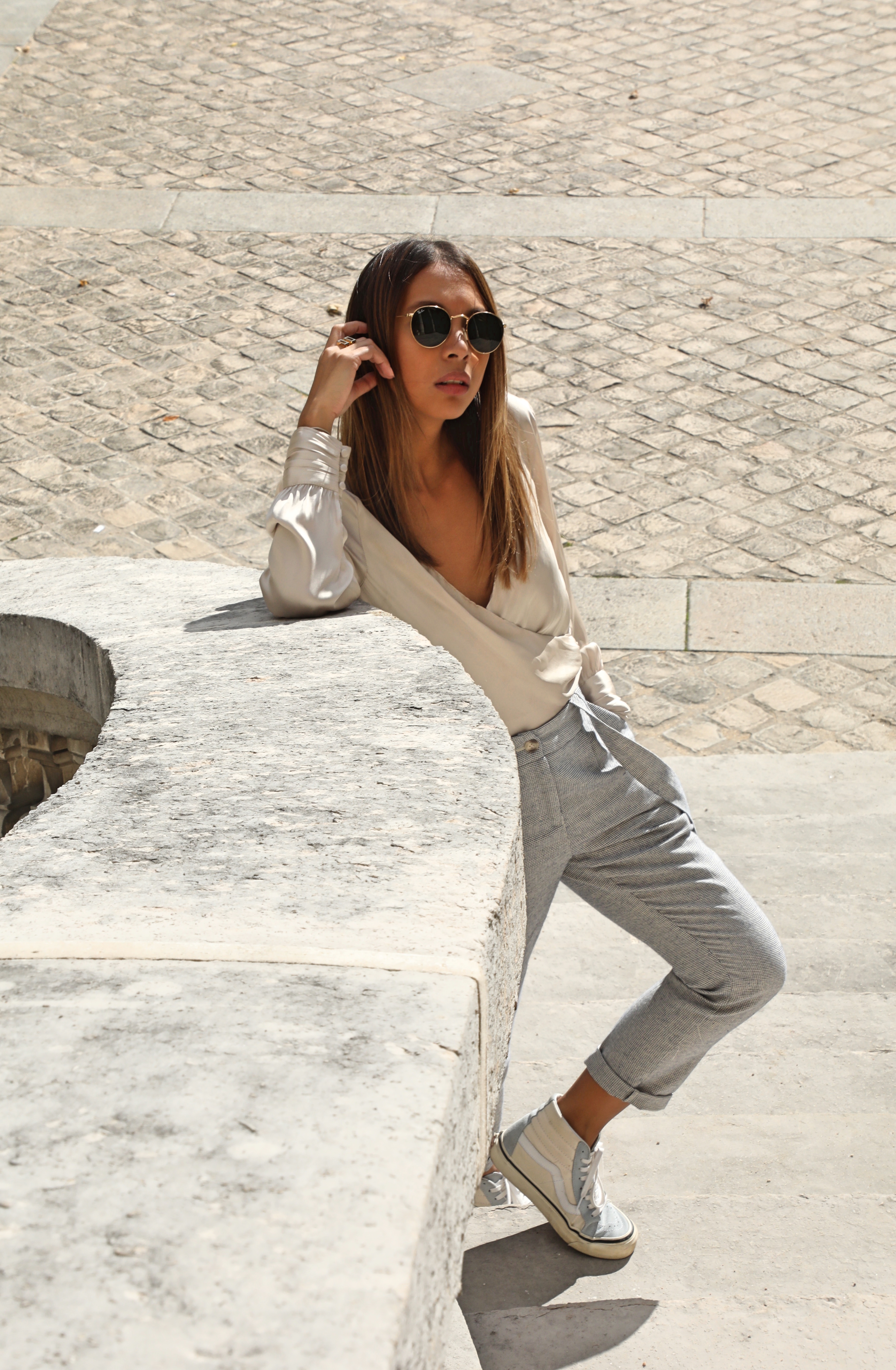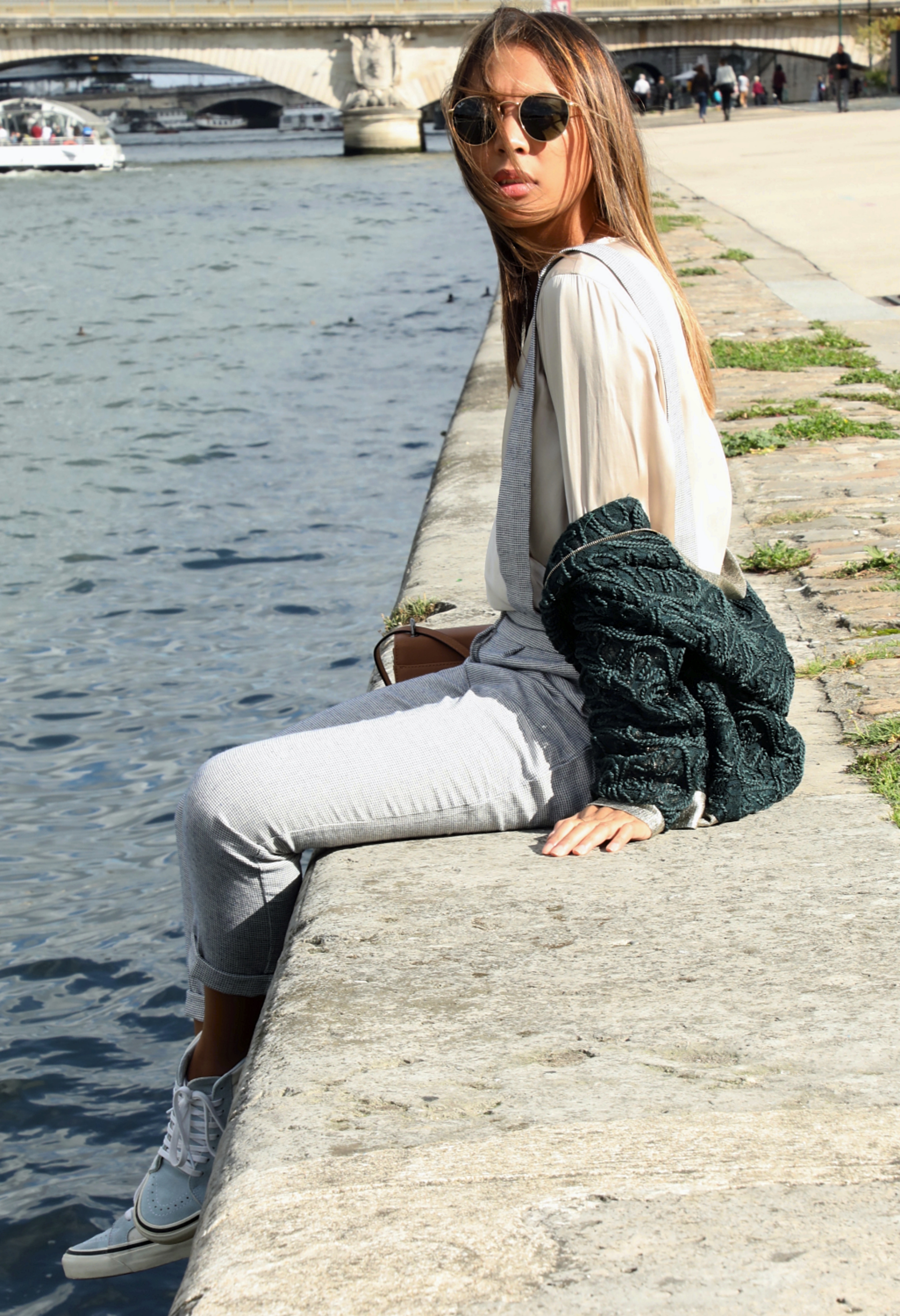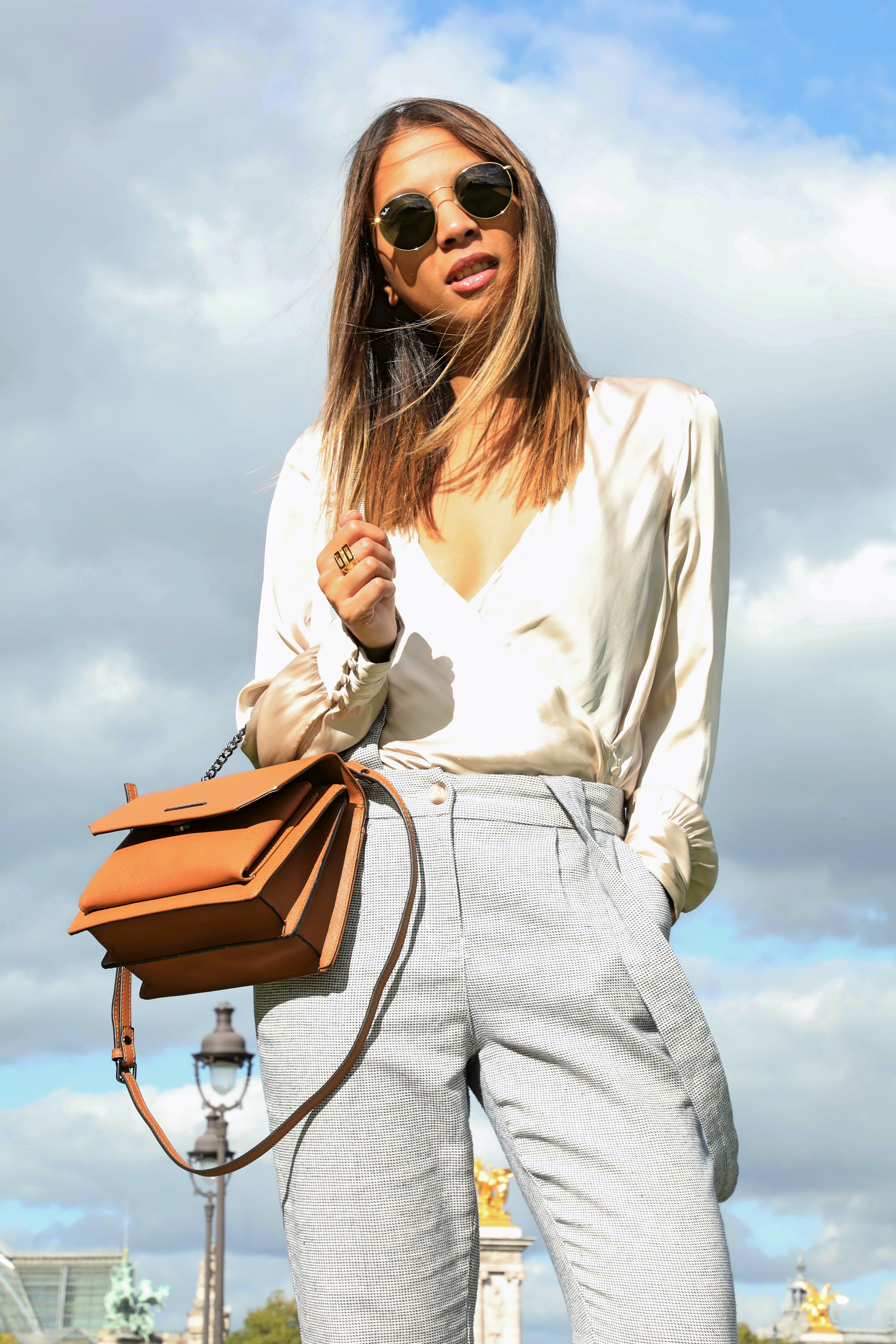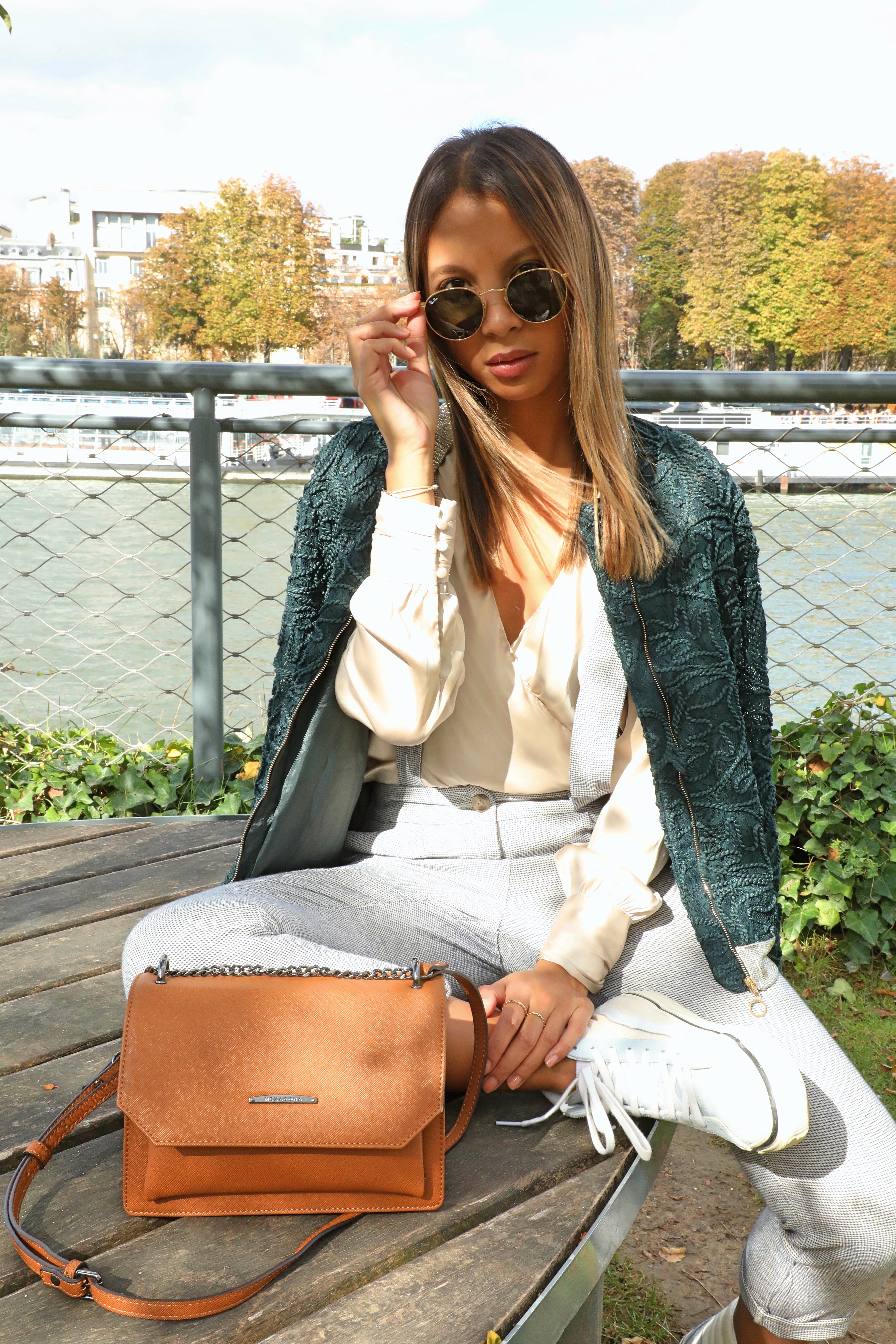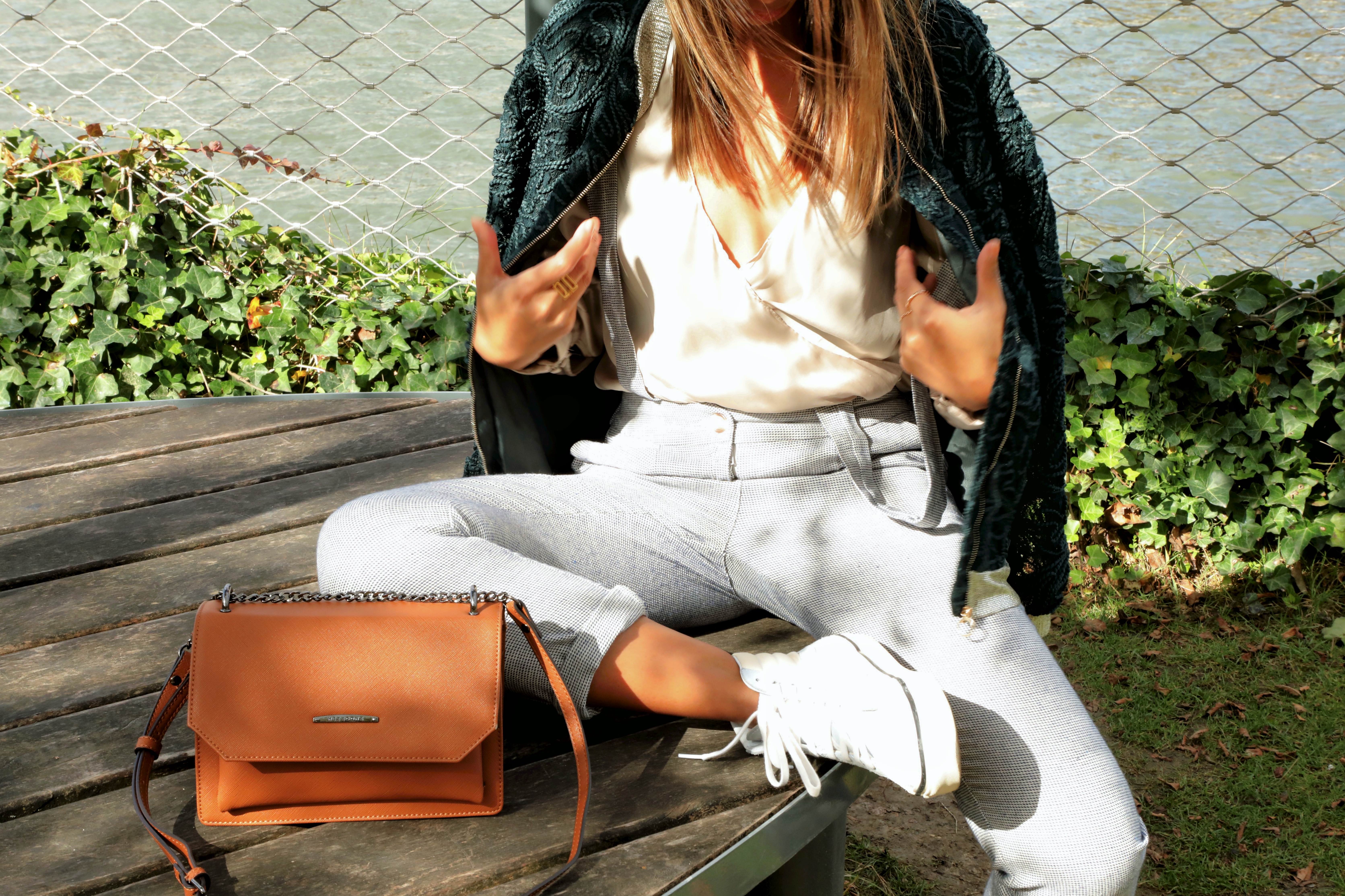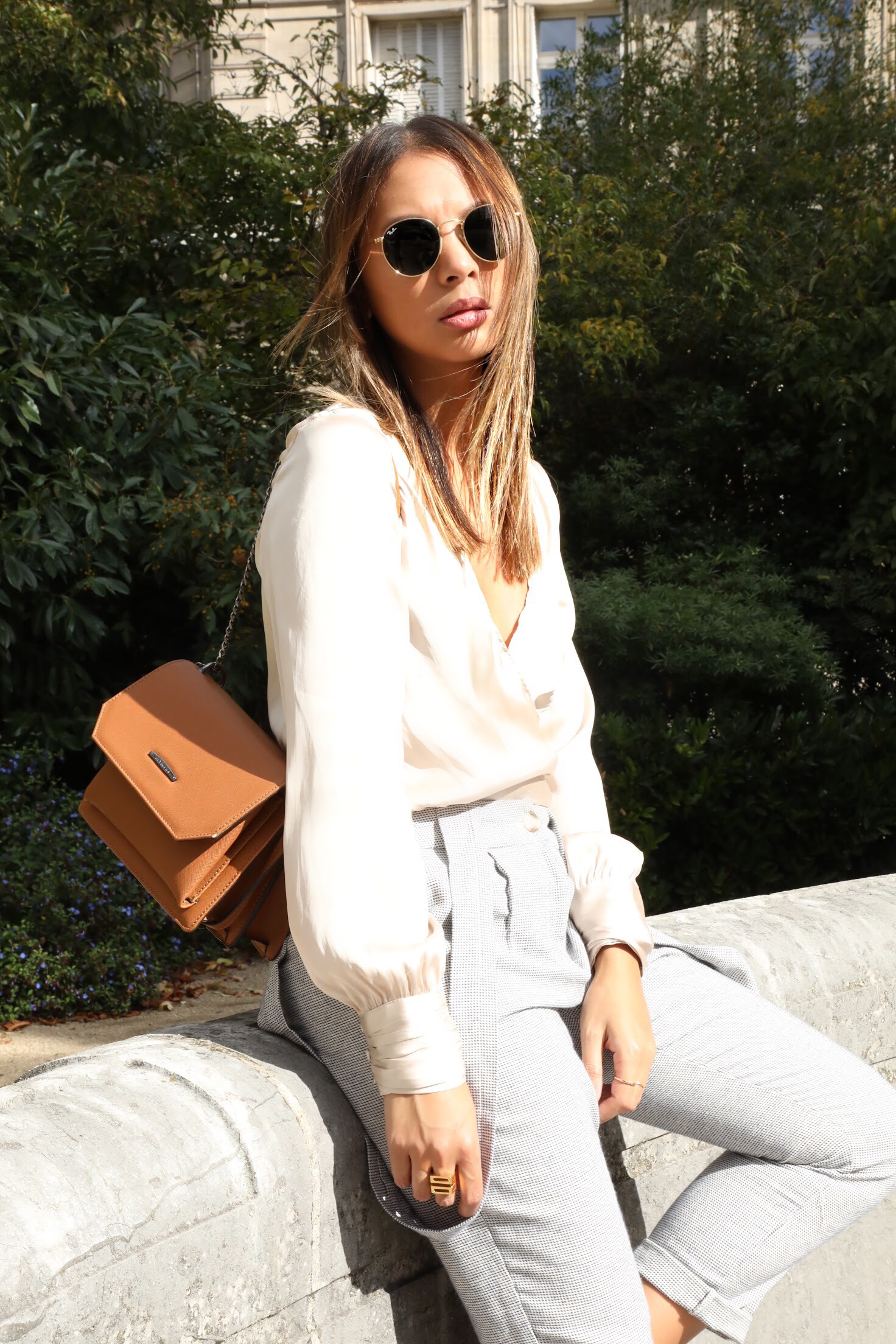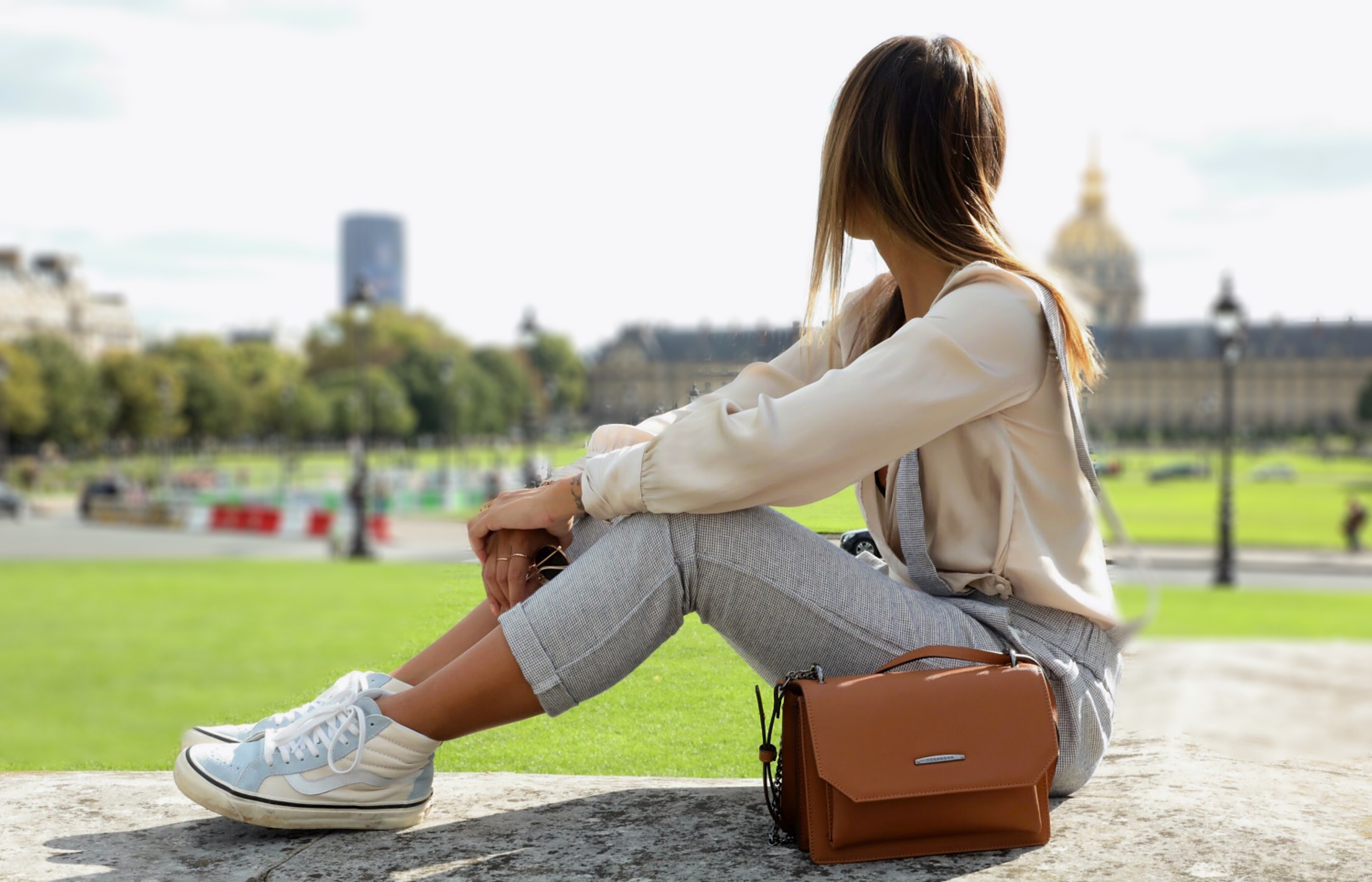 Where: Paris
Photos by Héloïse Guichard (Page: here)
---
WHAT I'M WEARING/CE QUE JE PORTE : 
RUE DES ABBESSES bomber (Size M) : Boutique NIN & LAUR (address below).
KRISTEN LIZ pants/pantalon (Size 1) : Boutique NIN & LAUR.
H&M blouse (Size 34) : Here.
VANS SK8 Hi (Size 36.5) : bought on overkillshop.com it's actually for men and I had a hard time finding them. Sorry girls they don't exist anymore in small size./Acheter sur www.overkillshop.com mais c'est un modèle Homme. J'ai eu beaucoup de mal à les trouver malheureusement les filles elles ne sont plus disponible en petite taille.
HEXAGONA PARIS bag (Altra model)/ Sac cassette modèle Altra : Available here/Bientôt disponible ici.
---
SHOP MY STYLE
---
BOUTIQUE NIN & LAUR
59 rue de la Roquette, 75011 Paris.
Métro : Bastille (ligne 1, 5 et 8)